Take in all of the beauty Southeast Alaska has to offer on this once in a life-time helicopter tour to the Mendenhall Glacier.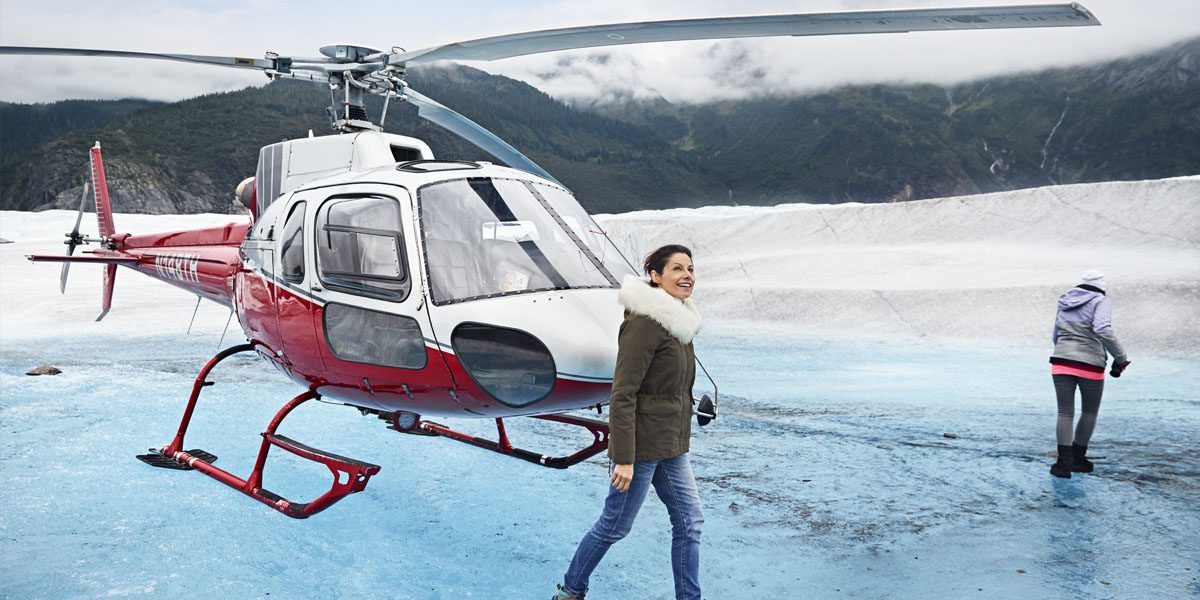 Your tour begins with a short transfer to our comfortable and spacious heli-base. Here you will be geared up with glacier boots and given a safety briefing by our friendly and attentive tour attendants. Load up into our state of the art helicopters and begin your bucket-list worthy adventure. Our highly-trained pilots will lift you off the ground and safely transport you over some of the most breathtaking sights you have ever seen. Lush green rainforests, alpine ridges, and glacier valleys pass beneath you as you make your way to the main attraction, the famous Mendenhall Glacier. Before touching down, you will have a birds-eye view of the awe-inspiring blue glacier ice, deep crevasses, spectacular ice falls and the jagged peaks of the Mendenhall Towers.
Once you have safely landed on the glacier you will be welcomed by our team of expert glacier guides. Our knowledgeable guides will take you on a tour of Mendenhall Glacier. During the 25 minutes you spend on the glacier you will learn how glaciers are formed and what makes them so spectacular. The tour will allow you to explore melt-water pools, feel glacial silt, and capture all of the beauty on your camera. The adventure isn't over yet; join your pilot in the helicopter for a ride back to our base to take in the Alaskan beauty from the air one last time. Leaving the glacier behind you will take with you memories that will last a life-time.
SPECIAL NOTES
---
Tour includes approximately 30 minutes of helicopter time and approximately 20 – 25 minutes will be spent on the Mendenhall Glacier, for a total time of 55 minutes. Please allow up to 45 minutes for transportation from dock departure to dock return and safety briefing.
---
Duration:   Approx. 2.25 Hours
Activity Level:    Easy
Provided:   Glacier overboots
---